[Japanese]



Rouran is a Chinese tea shop in Sapporo City, Hokkaido in Japan, which opened up in October, 2000.

We specialize in carefully-selected 50 brands of Chinese teas as well as healthy teas, all of which are directly imported from Shanghai, China.

Experience a unique fragrance of Chinese tea and find a real enjoyment in your living, affection and body and mind.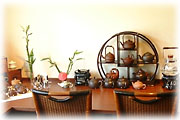 MENU

Chinese Tea

(choice from nearly 50 brands; all served with assorted Chinese sweets)

500 yen - 700 yen

*

Special Lunch (a plat du jour)

(with Chinese tea and dessert; available only from 11:30 to 14:00 every day)

700 yen

*

Home-made Chinese Dumplings

400 yen

*

Fried Rice with Egg and Pork

(with Chinese tea and Soup)

650 yen




Address: 71st Matsui Bldg. 1F, Toyohira 4-10-2-20, Toyohira-ku, Sapporo, Hokkaido, Japan

Phone: 011-837-5388 (from outside of Japan: +81-11-837-5388)
E-mail:staff@rouran.net


Open: 11:30am to 7:00pm (except Mondays)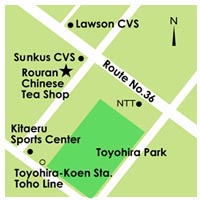 This page is link-free.
To link this page, kindly paste the banner bellow:









Copyright (C) 2000-2003 Rouran - All rights reserved.